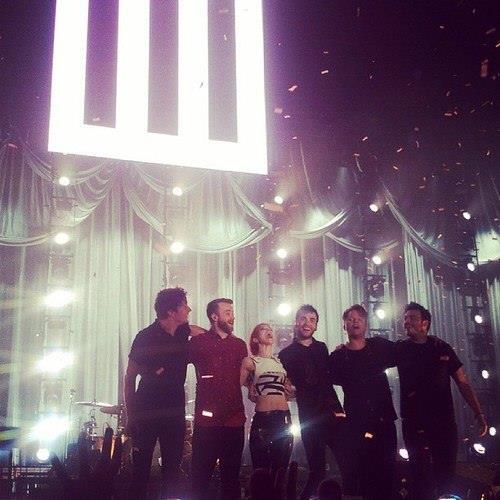 I GOT lucky the other week and won tickets from Kerrang Radio to see Paramore at Wembley Arena, so thought I'd take the opportunity to give you guys a little review of the gig.
I took my 12-year-old son along for his first proper concert and we got there in time to see both supporting acts. First up was the oddly-named Eliza And The Bear, a London-based band who feature five guys none of which are called Eliza.
It's a jaunty warm up to get the crowd going and they play a handful of tracks that come across as a mixture of Mumford & Sons and Two Door Cinema Club, but with added youthful exuberance. Sort of like The Coral in their early pomp but less surreal. Their songs, though rather forgettable, do the job at the time and get the crowd bouncing.
Next up is Charli XCX, who regrettably fails to really connect with the audience. Her voice is obviously decent, but she shouts too much and isn't helped but what seems like a sub-standard sound system. Charli also seems to put too much effort into coming across as "hardcore" when she's an out-and-out pop act.
Her biggest reception comes from the hit I Love It, which she wrote and featured on when it became a world-wide smash for Swedish synthpop duo Icona Pop. Other than that, it was just polite cheers for her songs and screams when she mentioned Paramore.
But if Charli brought the enjoyment down a little, it was soon up again. Paramore have a hardcore following of fans and could've just stood on the stage picking their noses and got an amazing reaction. Fortunately, they opt for singing and we all have a good time.
They kick off with Grow Up, followed by Fast In My Car and That's What You Get before really cranking up the scream factor with Decode and then Ignorance. The original trio that remain - Hayley Williams, Jeremy Davis and Taylor York - are full of energy, leaping around, running from stage left to right and making sure the crowd get plenty of face-time. Williams is superb at working the crowd, making sure the "connection" is there and it is clear they are all putting in a shift. Behind them are two more guitarists and the drummer, however, who sit in situ throughout. I would guess they wouldn't mind a run around too.
The songs continue as Now is followed by a few slower tracks and interludes before Hayley and the boys build it back up with Brick By Boring Brick and Crushcrushcrush. But it's with Misery Business - their 18th track of the night so far - that the band seal this as a night to remember.
Mid-way through after a bit of crowd sing-along, Williams stops the song and pulls a fan up from the audience to sing along with her. An excitable Sue - complete with backpack and homemade sign - is the lucky fan and everyone sings along wishing they were up there in her place hugging the sweaty little lead singer.
They go off stage after that but there's little surprise to see them back after some calls for some Paramore-more-more. They re-emerge with Part II, follow that with a little interlude before bringing the house to a climax with Still Into You.
I've been a fan of Paramore's music for some time although as a man in my mid-30s it's not something I think I'm meant to admit. I mean, it's for teenage girls isn't it? Still, in the words of Charli XCX, I don't care. It was a really fun show that didn't take itself too seriously with a band that had a connection with its audience and seemed to enjoy and appreciate them being there. Other so-called big bands I've seen live have barely said "hello" to the audience.
Williams - despite her small frame - is a real powerhouse, who controls and conducts the whole evening, really seals the deal. A top front-person. And a great show.